Tonight the family took a trip to the mall. I'm happy to say it was an enjoyable experience. Both kids ate their dinner without protest. The only tears came when it was time to leave. Those tears were because Alyce and Luke were having so much fun they didn't want to leave.
As a reward for eating dinner I watched the kids at the playground while Mom went shopping. What we were really doing was keeping them occupied so Mon could pick up Alyce's Valentines Day gift. She didn't have a clue.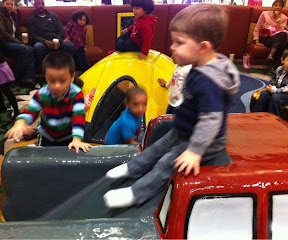 Both kids did great at the playground. There was no shoving and for the most part they waited their turn. Luke was enjoying his newly found physical abilities. He was able to use just about all the equipment. The only help he needed was to get his first leg up on a slide.
There was one scare though. While I was helping Alyce Luke took the opportunity to make a break for it. I think he was intrigued by the balloon strapped to another stroller. I was Lucky that I had my eye on him when he went for it.
When it was time to go both kids weren't happy about it. I couldn't say that I'd blame them.